Top Seller of the Store
    This stuffed LED shark is one of our new arrivals and soon become one of the best sellers after hitting store shelves. This shark is realistic but not that fierce. It features the function of glowing in dark which can also be used as a night light in kid's room. 3 colors are available: Blue, Gray, and Pink.

Review from Bre.A:
     "My son LOVES this shark. I bought it because I live a few hours from my parents and we visit them a lot, so we end up driving home at night and it scared my son (he is two and a half). It is very very soft and it lights up very well. Only problem I have with it is it has to be spot cleaned. You can't just toss it in the washer. Otherwise it's an amazing toy and my daughter loves it as well and we plan on buying her one too. "
Top Seller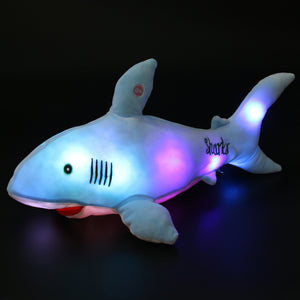 STEP Toys & Gifts Store
Welcome to STEP Toys & Gifts Store. We provide stuffed animals of functions such as glowing, singing, dancing, or accompany, and delicate decorations for lots of festivals like Christmas, Halloween, and Easter.